P- SEIKO MARINEMASTER/TRANSOCEAN
Postad på Chronomag 2021-08-23 17:11:00 +0000 av **???**
Note that the text below is in most cases automatically translated from it's original language
I am selling this specialty and a rarity from the golden era of Prospex (year 1999). This is the first model called the Marinemaster. It is sometimes referred to as Transocean because this model (adjusted for the lunar phase for navigation) is associated with the Japanese yachtsman Kojiro Shiraishi, who in 1994 circumnavigated the globe as the youngest solo. This watch also deserves a separate section in the book The Story of Evolution on the Special Watches of Seiko, from which I give a few pictures here.
The watch is equipped with a 7k32 movement (which was also used by the popular Landmasters). In addition to measuring time, they also have the function of barometer, GMT, date and alarm.
_Technical parameters: _
titanium case, approx. 44mm (thanks to the great shape of the case it fits perfectly and thanks to titanium they are not even heavy
movement 7k32 barometer (current pressure and pressure tendency), date, alarm, second time zone
sapphire crystal and blue plastic dial
titanium stroke in the total length of 21 cm, including two spare parts, the stroke has the classic Prospex extension
Swivel bezel
State:
Everything works, glass and dial without damage. The watch is definitely not NOS, it is worn but in nice condition, here and there some scratches and capillaries (especially on the move) but they are definitely not frayed (without jams)
_Price: _ 14,000+ mail - perhaps the lowest price they ever sold on our planet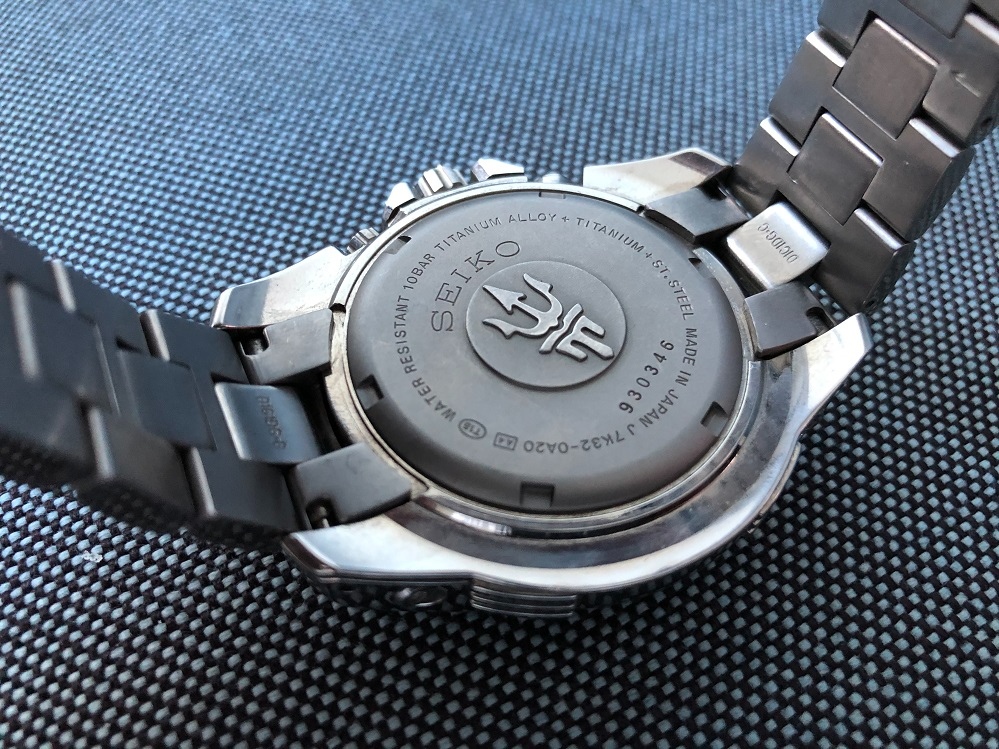 Notera att texten nedan i de flesta fall är automatiskt översatt från sitt ursprungsspråk.
Jag säljer denna specialitet och en sällsynthet från Prospexs gyllene era (år 1999). Detta är den första modellen som heter Marinemaster. Det kallas ibland Transocean eftersom den här modellen (justerad för månfasen för navigering) är associerad med den japanska båtmannen Kojiro Shiraishi, som cirkulerade jorden runt 1994 som den yngsta solo. Denna klocka förtjänar också ett separat avsnitt i boken The Story of Evolution on the Special Watches of Seiko, från vilken jag ger några bilder här.
Klockan är utrustad med en 7k32 -rörelse (som också användes av de populära landmästarna). Förutom att mäta tid har de också funktionen som barometer, GMT, datum och larm.
_Tekniska parametrar: _
titanhus, ca 44 mm (tack vare den stora formen på fodralet passar det perfekt och tack vare titan är de inte ens tunga
rörelse 7k32 barometer (aktuellt tryck och trycktendens), datum, larm, andra tidszonen
safirglas och blå plast urtavla
slag i titan i den totala längden på 21 cm, inklusive två reservdelar, slaget har den klassiska Prospex -förlängningen
Vridbar ram
Stat:
Allt fungerar, glas och urtavla utan skada. Klockan är definitivt inte NOS, den är sliten men i fint skick, här och där några repor och kapillärer (särskilt i farten) men de är definitivt inte slita (utan sylt)
_Pris: _ 14 000+ mail - kanske det lägsta priset de någonsin sålt på vår planet

![IMG_6870.jpg.9ee373fb9707aa70b9c19d9f1c597c8f.jpg](https://forum.chronomag.cz/uploads/monthly_2021_08/IMG_6870.jpg.9ee373fb9707aa70b9c19d9f15
![IMG_6872.jpg.c289ecbe49b11ec57dbc98f8415fece9.jpg](https://forum.chronomag.cz/uploads/monthly_2021_08/IMG_6872.jpg.c289ecbe49b11ec57dbc98f8415fece9.jpg